I sadly had to give up dairy a few years ago but the universe was kind enough to allow my body to still eat cheese and thank goodness because it's delicious!  I can't wait to try SeaSmoked Foods Nov. 25th!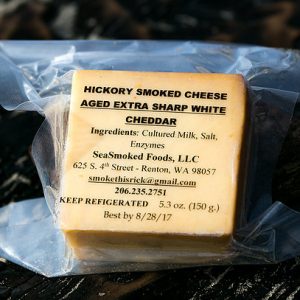 Where does your passion for food come from?
From my toes all the way to my mouth!
Tell us about your culinary journey.
Started cooking at home with my mom. Took her recipes to college to make my own meals to save money & impress the girls. Graduated from Culinary (Management) School Purdue University. Worked mostly at 13 Coins & Daniel's Broiler Leschi. Started my own Food Company 32 years ago producing Freezer Jam from NW berries (brand name Freezerves) and is currently a semi-national brand sold in many grocers frozen foods and served in 1000's of restaurants. Had a partnership meltdown and took a buy out. 2 years ago developed methods of cold smoking several varieties of cheese and smoking & roasting nuts (Pecans & Macadamia Nuts). Most who try them are truly amazed at the quality & flavors and comment "I've never had ANYTHING like that before!"
Where is your favorite place to eat?
Angelo's Italian (in down home town Burien – Friday date might with my wife Michele). Also a few spots near Pacific City, Oregon coast where we vacation several times a year.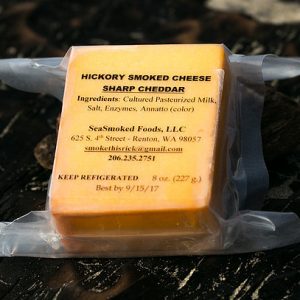 Where do you source your ingredients?
Tillamook Cheese and other varieties from Wisconsin and Germany. Macadamia Nuts direct from organic farm on the Big island Hawaii. Pecans direct from Costco.
Tell us about a new product you are working on.
Current products are awesome. Just waiting for the next culinary epiphany.
What will our fans find at your booth this fall?
All products Hickory Smoked for over 3 hours….. Aged Extra Sharp White Cheddar – Sharp Cheddar – Pepper Jack – Havarti – Gouda or Edam – Mozzarella – Hawaiian Macadamia Nuts & Pecans. All in convenient packages with resealable zip locks. Great for gifts and personal enjoyment.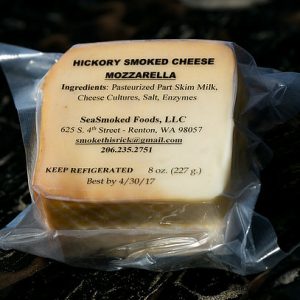 What are your goals for your business in the next year?
So far I'm a one man show and working as much as I want for my youthful age of 66. In a couple Farmers Markets 6 months a year in Downtown Burien on Thursdays & Des Moines Marina on Saturdays. In the next year will look for more similar opportunities in the off season such as "Gobble Up".
What was your biggest challenge when starting out?
For any food product there are two big challenges for me: #1. It should be something that no one else is doing. #2. The vast majority of those who taste it have to really love it.
What's your favorite part of this food movement?
Meeting and helping passionate entrepreneurs and finding new food goodies to cook with and eat.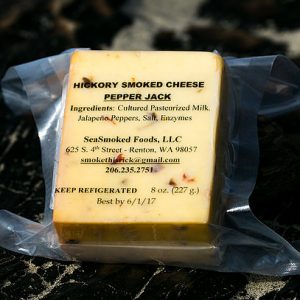 What's the best part of your job?
Watching the faces and hearing the compliments when customers see – smell – and taste my yummy smokey stuff.